FREQUENTLY ASKED QUESTIONS
WHAT ARE YOUR HOURS?
CALL (913) 381-5349 FOR EXPERIENCED
CHIMNEY CLEANING SERVICES
The only guys we will use. They are
on time, they are courteous, they
never leave a mess, they do a
thorough job inside and out. They
are GREAT GUYS. We have used them
for as long as I can remember and
will continue to.
Thank you Mike and Mark for living
up to Ray's expectations!!!
S. Carmen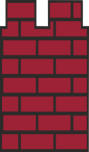 Find answers and general information about
Chimney Cleaning.
We service Johnson County and the greater
Kansas City area.
We are available Monday - Friday 8 am - 5 pm.
Email us anytime.
It usually takes 30 minutes to an hour to clean a
chimney.
There could be an obstruction in the flue or the
flue is dirty.
Your chimney should be cleaned every cord of
wood that is burned. A cord of wood measures 4'
x 4' x 8'
A professional cleaning helps the smell go
away.
There is the possibility of birds or some
type or animal in the flue.
Yes we install standard square (galvanized or
stainless) or round (stainless) and custom caps.
We do minor repairs, tuckpointing, tuckpoint
fireboxes, pour new cement crowns, water seal
chimneys, etc.
WHAT AREAS DO YOU SERVICE?
HOW LONG DOES IT TAKE TO
CLEAN A CHIMNEY?
HOW OFTEN DOES MY CHIMNEY
NEED TO BE CLEANED OR
INSPECTED?
WHY IS THERE AN ODOR OF
BURNED WOOD IN MY FIREPLACE
EVEN WHEN NOT BURNING?
DO YOU INSTALL CHIMNEY CAPS?
WHY IS SMOKE BACKING UP IN MY
FIREPLACE?
WHY AM I HEARING NOISES IN MY
CHIMNEY?
DO YOU DO REPAIRS?
HOW OFTEN SHOULD MY DRYER
VENTS BE CHECKED OR CLEANED?